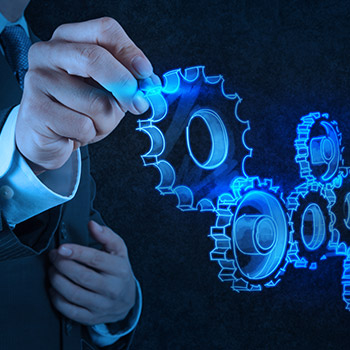 Hennessy Defense is a Team of highly experienced Capture and Proposal Professionals focused on Defense, Intel, and Civil opportunities. The current team includes over 60 professional Executive Leaders, Capture Managers, Proposal Managers, Volume / Section Leads, Program Managers, Solution Architects, System / Project / Test Engineers, Proposal Writers, Graphics, and Publications
Our consultants work side-by-side with your team to develop winning solutions, discriminating offers, and 100% compliant and compelling proposals. Our consultants are hand-selected "A" Players that will do whatever it takes to win.
We work using your processes or we can bring proven Capture and Proposal Processes to ensure early focus on critical actions that significantly improve Pw and efficient proposal implementation. We focus on making sure your win themes are clear, your offer is compelling, and your proposal is 100% compliant.
We offer Capture and Proposal Training Classes to change your culture from reactive proposal submissions to proactive captures. Hennessy Defense has a variety of curriculums depending on your needs. We offer 2 Day Capture Training, 2 Day Proposal Training, Abbreviated 1 Day Capture/Proposal Overview training, and focused 4 Hr and 2 Hr sessions on everything from Price-to-Win to Customer Engagement. We offer Earned Value Management Training for Cost Account Managers and for Executive Leadership. Training can take place at your facility or an off-campus location. Classes are tailored to your company need and your market to ensure maximum training effectiveness.
Hennessy Defense provides high level strategic guidance in certain core markets. We provide strategic planning, business development, pipeline analysis, and Mergers and Acquisitions (M&A) support. We provide clear "go to market" strategies with a solid understanding of the competition. With certain Government customers we can provide introductions and analysis but with many of the large primes we have strong customer relationships that can be leveraged for your growth. Our experts can perform a detailed review all the opportunities on your pipeline. We can also support the new business analysis of your M&A efforts.
Our team has extensive experience to help you with execution of your core programs. One of the key areas of focus is Start-Up reviews. Our "greybeards" understand what it takes to get a large program off to the right start. Many Government studies have concluded that most programs that are having problems were not started correctly with a detailed and achievable program plan. Putting together the right Program Plan with a good Integrated Master schedule can make the difference between a successful program and unsuccessful program. We also understand how to prepare for upcoming recompetes to ensure you are in the #1 position to win the recompete.
We support all aspects of growing your business.
Features
Benefits

Majority of Consultants have 20+ Years working captures and proposals
Proven templates for Capture Plan
Comprehensive Annotated Outline template
Effective and comprehensive Storyboard template based on Power Point
Our consultants understand what it takes to win in this very competitive environment
Our wide ranging experience covers almost every major Government agency and opportunity type
Our team includes experts for every phase of your strategic growth plan

We jump in and get the job done – no wasted time or money on learning curve
Simple but effective templates drive consistency over all your captures and simplifies decision making
Eliminates false starts, wasted writing, and authors who don't know exactly what is expected
Ensures very heavy focus in on anchor graphics and section theme. Defines discriminating points, features/benefits/proof, and 100% compliance with RFP. Simplifies peer reviews and management reviews
A team you can count on 24/7. A team that knows how to handle high pressure situations
We can often provide you SME level expertise for your particular customer and opportunity
We are a one stop shop for your entire capture and proposal effort
People and Processes that can Significantly Improve Pw
Functional Areas that Support Capture and Proposals

Executive Strategy & Leadership
Market Identification & Analysis
Business Development / Sales
Pipeline Analysis
Capture Management
Competition Assessment
Teaming and Partnering
Price-to-Win (PTW) Analysis
Proposal Management
Volume Leadership
Section Writers
Graphics
Publications
Orals Coaching

Program Management
Budgeting / Program Planning
Integrated Master Schedules (IMP/IMS)
Organization Architecture
Transition Planning
Design to Cost (DTC)
Earned Value Mgmt System (EVMS)
Operations / Facilities
Supply Chain / Subcontracts
Team Building
Negotiations

System Engineering
Software Engineering
Computer Engineering
Project Engineering
Test Engineering
Cyber Solutions
Solution Architect
Requirements Traceability
Six Sigma Quality
Value Engineering
Full Spectrum of Support for Comprehensive Offering
Customers that have been supported by the Team (As Individuals)

US Army

PEO EIS
PEO C3T
PEO EIW&S
PEO Soldier
PEO Aviation
PEO STRI
CECOM / RDECOM
LCMC, LRC
SEC

US Air Force

AFSPC
AFMC
SMDC
AFRL
AFLCMC

Intel

NSA
CIA
NRO
NGA
FBI
DIA
INSCOM

Civil

FAA
DHS
DOS
NASA
NOAA
Census
The Team's Experience is DoD, Intel, and Civil